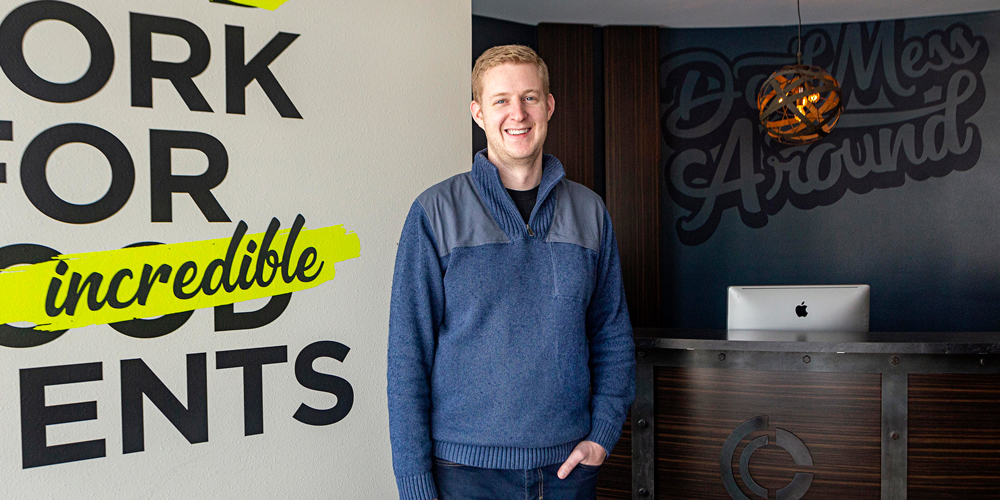 Welcome Tyler, Production Manager!
By Caliber on Dec 16, 2019
Caliber is proud to introduce Tyler, the newest addition to the team! As Production Manager, Tyler will be coordinating Caliber's internal production schedule, working with vendors and ensuring that quality standards are met. Tyler brings a notable amount of experience to the team through his previous leadership and design roles. He is also an active member of the Sioux Falls Up & Coming group. 
"I can't begin to explain how excited I am for this opportunity to work at Caliber Creative as a Production Manager. The camaraderie that I witnessed and got to experience so far, is truly amazing. A person can only learn so much about a company from their website, and being a part of this team really showcases how much care and effort everyone brings to each project. As I embrace the challenges that come with taking on a new role, I am proud that I get to be involved with an awesome group of people," said Ahlers.  
In his free time, Tyler keeps himself busy attending The Butterfly House and swimming at the Midco Aquatic Center with his two boys and wife. He also enjoys a good board game or a stroll on his motorcycle when it's well-above 60 degrees. 
We are so happy to have Tyler on the team!