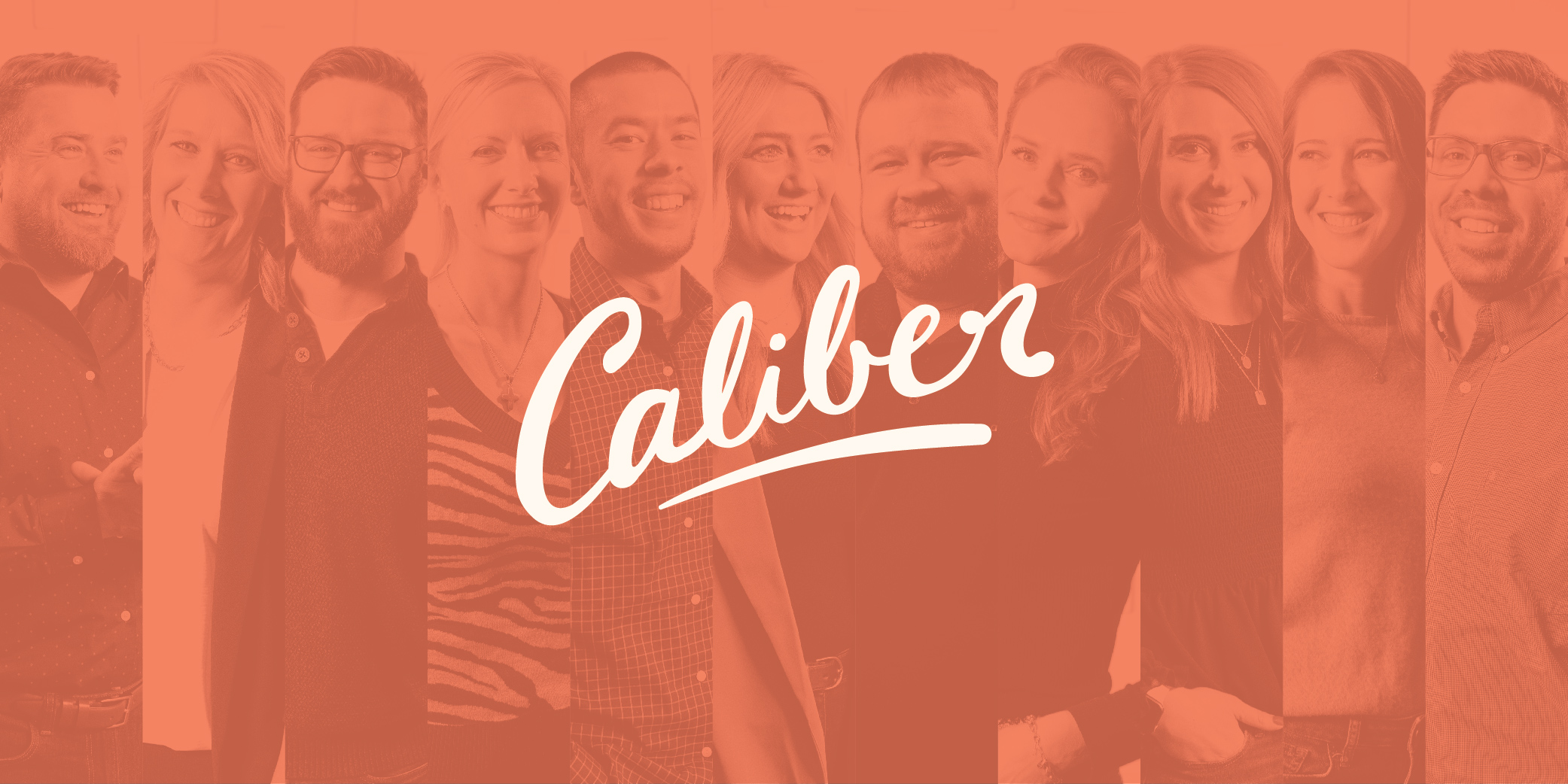 By Caliber on Jan 3, 2023
New Year, New Us? Not exactly, but we do want to take a minute to reintroduce ourselves. Hi – Welcome to Caliber! Whether you are a current client, vendor, friend or someone new who's stumbled across our agency we would love for you to *virtually* meet our entire team! After all, team work makes the dream work and here at Caliber we have a hands-on team so odds are in some way or another you are working with all of us!
Casey Schultz, Agency Partner, Director of Strategy
As agency partner and director of strategy, Casey leads the way for business development and campaign strategies. He has nearly 20 years of experience in all facets of the creative industry including web development, large-format printing, print design and social media campaigns. 
Likes: Outdoors, Seinfeld, Mt. Dew Zero
Dislikes: Seafood, Negativity, Tardiness
Brad DeVille, Agency Partner, Executive Creative Director
As executive creative director, Brad serves as the final approval point for all campaign's and provides direction for all video, photo and audio components. Brad has over 20 years of experience in the creative industry with his primary roles being broadcast production, art direction, photo & video direction and creative development.
Likes: Family, Outdoor adventures, Music
Dislikes: Onions, Windy days, Stoplights
Kelly Buss, Agency Manager, Media Supervisor
Kelly handles all media strategy, planning and negotiation at Caliber. She supervises all media activity to achieve the best placement rates and schedules available. Kelly has nearly 20 years of media experience ranging from small local media executions to national media buys across several states. On top of all that, Kelly serves as agency manager to ensure Caliber is operating as a well oiled machine. 
Likes: Football, Carmel High Rise, Vacations
Dislikes: Dishes, Freezing rain, Needles
Mandy Sturdevant, Art Director
As Art Director, Mandy is a vital member of the creative team at Caliber. She oversees all projects in the Caliber pipeline and helps delegate responsibilities to the design team. She also is heavily involved in all campaign concepting processes. In addition to this, Mandy continues to stay on top of trends and maintains best practices to ensure the standards of Caliber's work are upheld.
Likes: Downhill skiing, Dark chocolate, 90 degree days
Dislikes: Scary movies, Being cold, Pickles
Jamie O'Brien, Account Executive
Jamie shines in her role as account executive with close to 23 years of marketing and advertising experience. She helps guide clients through their marketing strategies to find ways to better position themselves in their respective markets. As the liaison between our creative team and her clients, Jamie ensures goals are being met while staying within the budget and project timeline.
Likes: Shopping, Hulu, Chocolate
Dislikes: Being cold, Being late, Swimming
Sarah Madsen, Account Executive
As an account executive, Sarah serves a full line-up of clients, helping them build annual marketing plans, provide budget suggestions and overall marketing strategies. Day-to-day, Sarah ensures her clients are kept informed on current project statuses and is always there to answer any questions or requests that may arise. 
Likes: Clean/tidy home, Brown sugar shaken espresso, Tailgating
Dislikes: Roller coasters, Animals, Taking my makeup off at night
Lindsey Morris, Administrative & Traffic Coordinator
Lindsey is responsible for planning and coordinating production schedules and media traffic. She also assists with media placement once media plans are completed and approved. Additionally, Lindsey is in charge of providing project timelines and milestones to the Caliber team to make sure deadlines are met and due dates are not missed.
Likes: Outdoor concerts, 2000's sitcoms, Dog friendly places
Dislikes: Driving in the dark, Halloween, Grocery shopping
Joel Dirnberger, Graphic Designer
As a graphic designer, Joel works closely with the creative team to bring concepts to life. Joel's day-to-day responsibilities include graphic design tasks, file production and final file prepping for vendor use. Additionally, Joel is an extra line of defense for quality control and production details for campaign materials to ensure client needs, goals and expectations are being met.  
Likes: Maple bourbon lattes, Playing hockey, Cheesy gordita crunches
Dislikes: Snowy roads, Hair in my food, the Green Bay Packers
Cody Bunger, Graphic Designer
Cody, also works closely with the creative team to bring concepts to life. He assists with day-to-day design projects for a variety of clients and is always ready for an impromptu brainstorm session. He thrives on a deadline and loves to pitch an idea to the creative team and help bring that vision to life. 
Likes: Bombin' Drives (Golf), Spicy Foods, Road Trips
Dislikes: Rock Chips, Running just to run, People with a bad attitude
Jessica Ferrie, Account Executive
As an account executive, Jessica serves as the main point of contact for several Caliber clients for day-to-day interactions. She is responsible for ensuring marketing plans are being executed accurately and efficiently. In addition to that, Jessica always has her eyes and ears open in search of the next great client partner for Caliber.
Likes: Sunshine, Hiking in AZ, Themed parties
Dislikes: Losing stuff, Bad manners, Keystone Light
Jarrod Page, Web Developer
Jarrod is responsible for custom website development and any needed IT support that may arise. In addition to website development, Jarrod also assists in troubleshooting, user testing and any other custom-tech integrations needed for any of the digital assets included in the new campaign.
Likes: Muscle Cars, Movies, Backyard Barbecues with friends
Dislikes: Large Crowds, Spiders, Hospitals