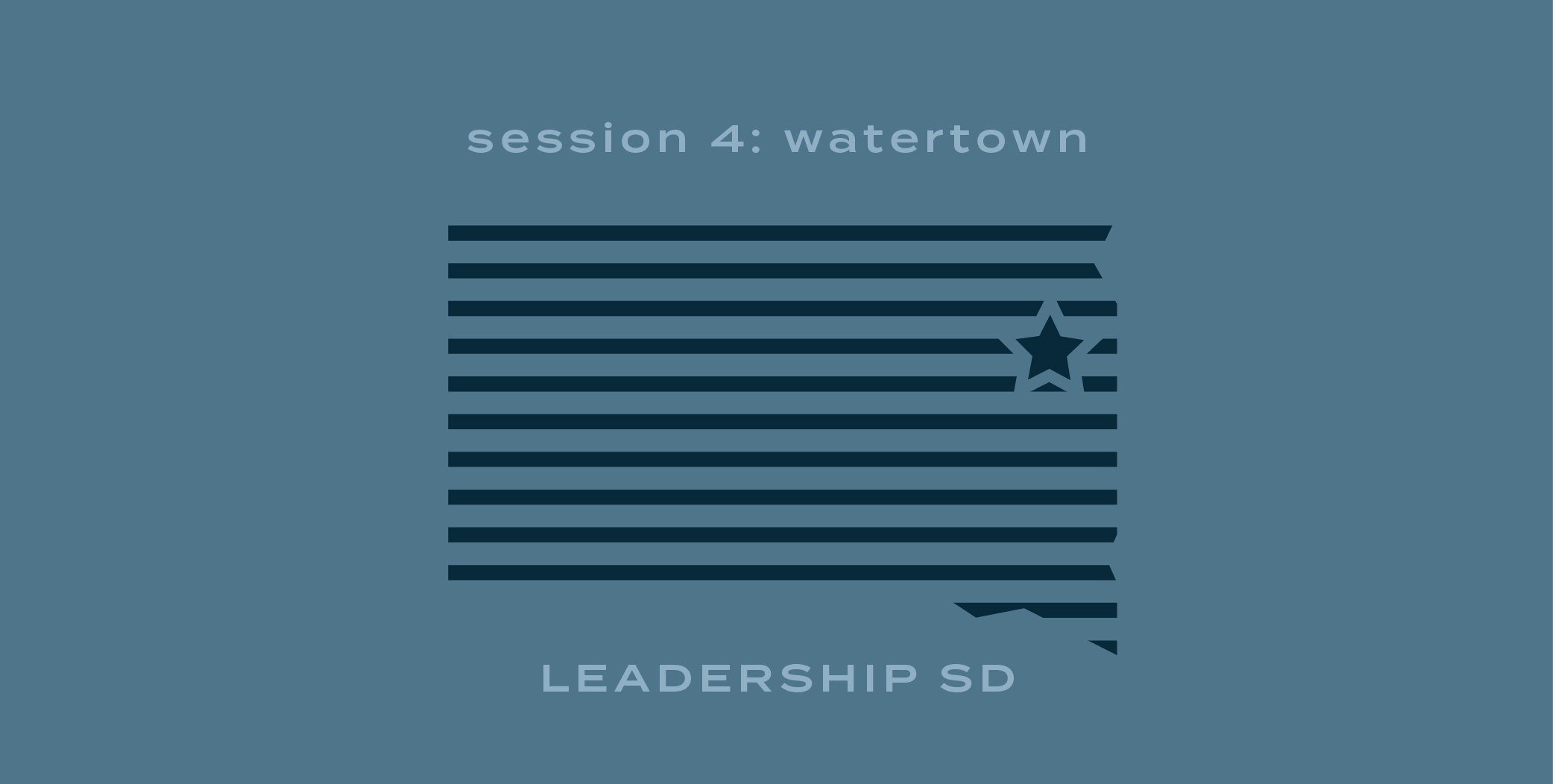 Leadership SD Recap : Session 4 : Watertown
By Casey Schultz on Apr 4, 2022
Watertown was the location for session 4 for Leadership SD. If you don't read any further – it was another great session and experience, just like the previous 3. Watertown's focus revolved around Rural Initiatives. 
Day 1
Our first stop took us to Lake Area Technical College. For as much as we hear the accolades and praise that Lake Area Tech has received, I thought maybe I had a decent understanding of what the college was all about. Wrong. From a campus tour to hearing from their leadership team and a sneak peek at some future plans, it was a very educational experience, to say the least. It's clearly a top-notch facility with big plans on the horizon.
Hearing about the new course offerings, degrees and the demand those industries currently have was very eye-opening. Knowing all these advancements are slated to be in place at Lake Area Tech very soon, it was very interesting to hear how those new additions have a ripple effect on the general population of Watertown, the need for housing and community concerns overall. Those sorts of topics don't really come up in typical conversations when talking about college topics, but it was great to hear their leadership discuss these things at a much broader level than I was accustomed to.
As we completed the afternoon session of day 1, we headed for social hour, networking and our evening session that was hosted at the Goss Opera House. If you're not familiar with the Goss Opera House, please make sure it's on your list to visit next time you're in Watertown. The history is fascinating and the renovation is stunning. Board member Kristen Henderson gave us a great presentation about the history of the building, the original family ownership and the namesake, Mr. Charles Goss himself. As with most historical buildings, the backstory was nothing short of amazing and the current state of the building today is a world-class example of what community support can do for the betterment of all involved. It was a perfect location for networking, social hour and a delicious evening meal.
Day 2
Day 2 started with a quick breakfast, then off to our first stop of the day, Terex Utilities. Terex is not new to the community of Watertown, but the facility we toured is new. In fact, it's the national headquarters for the company that relocated to Watertown in recent years.
Besides the sheer size of the facility itself, the tour and education of its services and company were first class. They're responsible for engineering and constructing trucks and utility equipment that get deployed all around the world. The work they do is very impressive, to say the least. Literally, every truck they build and every order they complete for a customer is involved in heavy-duty construction and often in dangerous situations. They know their stuff and produce absolute top-of-the-line products.
After Terex, we headed out of town, to the Fordham Colony of rural Clark. I think it's safe to say most of us on this bus didn't know what to expect from our visit to the colony.
When we arrived at the colony, we were greeted by Bill, the Farm Boss. For those not familiar with colony rank, the Farm Boss is pretty much the head cheese there, so we got a very in-depth look at life on the colony – at least for a couple of hours.
The people couldn't have been nicer. We had lunch with them and the food was delicious and we toured the high points of their colony which was a great experience. Bill certainly gave us all plenty to discuss and debunked a few myths about colony life and I, for one, feel pretty silly about some of the things I thought I knew about the colonies in South Dakota.
After our visit to Fordham, we visited Clark. While in Clark we heard about rural improvement programs that were being implemented in an effort to help support the smaller communities across South Dakota. Being from a small town (shout out to De Smet), I could relate to most of the topics discussed on many levels. After all, Clark is only about 40 miles from where I grew up.
Hearing from these leaders of the smaller communities around the State was a nice change of pace and really stuck with me. The passion these leaders have for their communities was clearly on display – and they were proud to present it to all of us. 
As day 2 wrapped up, we hopped back on the bus and arrived back at our lodging destination, the Ramkota Hotel. At the Ramkota, we enjoyed another great meal and an evening presentation by Stuart Stein, of Stein Sign Display in Watertown. Stuart is a graduate of LSD and an all-around great guy with a great story about his family business. As with all evening activities, everyone had a great time networking and socializing with our guests, alumni and our classmates.
Day 3
Day 3 was a wrap-up day and focused on our group leadership modules. This particular module was Integrity. As we finished up our module, we debriefed with what we learned, our takeaway from each stop of the session and gave a quick update on the next stop…. Sioux Falls!