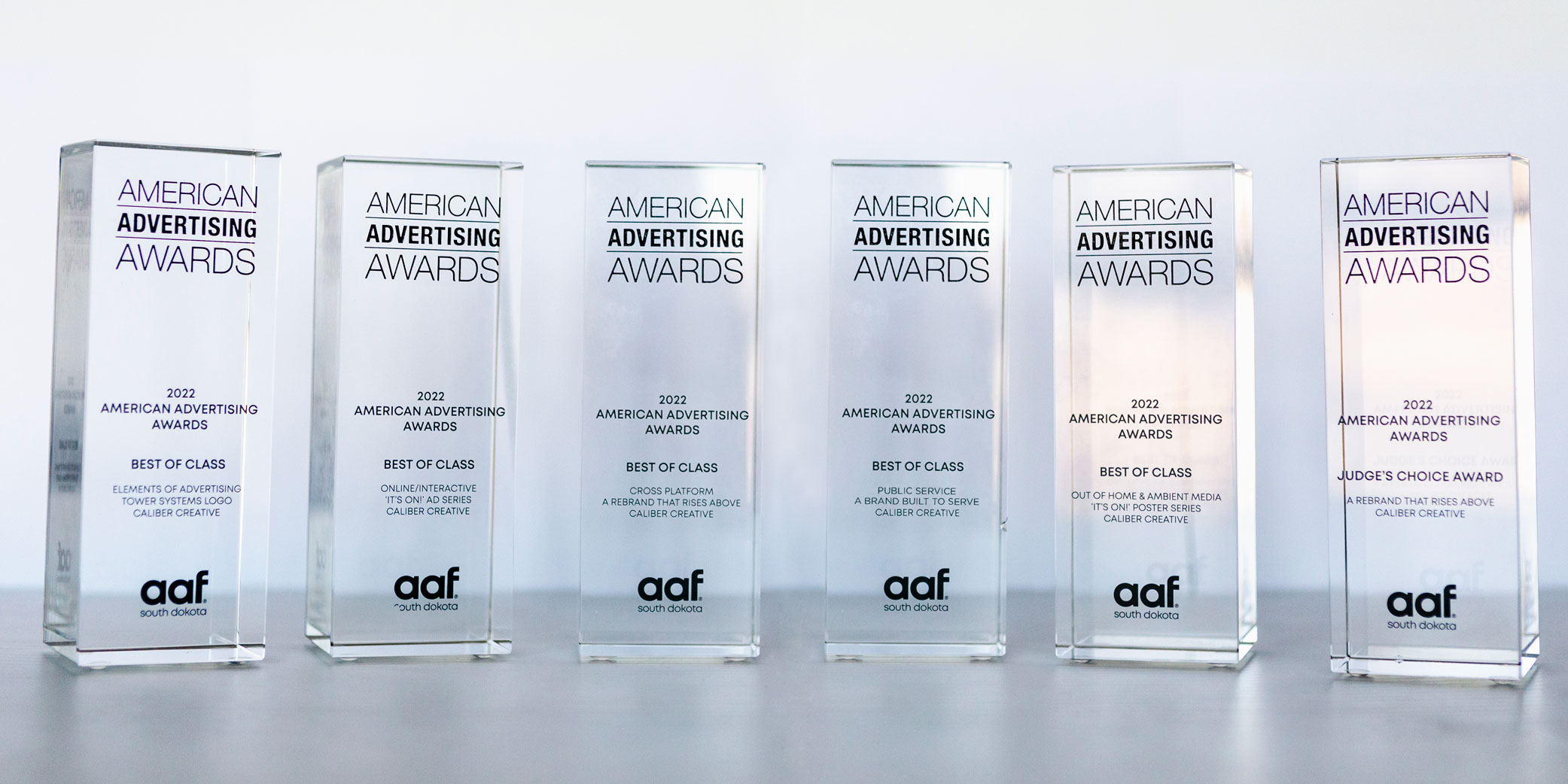 Great Work. Even Better Clients.
By Casey Schultz on Mar 9, 2022
It's that time of year again. Time to celebrate the great work that our team has accomplished throughout the past year for our awesome clients. You guessed it, the American Advertising Awards (AAAs). The AAAs are held annually by the American Advertising Federation (AAF) and is the industry's largest and most representative competition for creative excellence. We are honored to have received several great awards this year and are excited to share them with you. There are a great deal of factors that go into a successful project, including client relationships, collaboration, and many out-of-the-box ideas. Many thanks to our partners for helping us make this happen and to our clients for trusting our ideas and allowing us to do great work.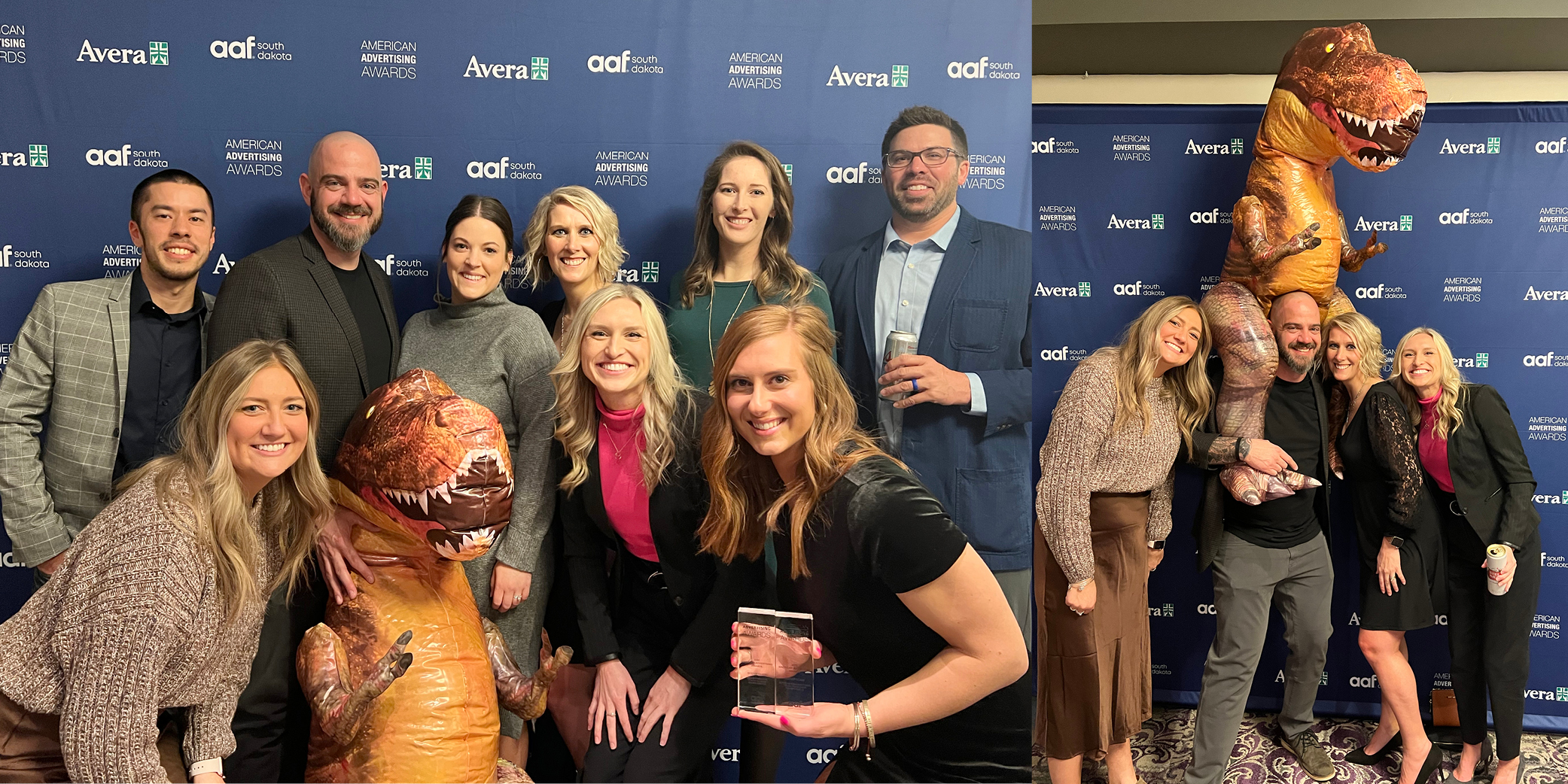 The crew had a great time at the AAAs show and enjoyed all the wit that it had to offer, including dinosaurs, Shawn Cable, and a nice game of bingo. I think we were laughing the entire night!
Caliber 2022 AAAs Awards List:
BEST OF CLASS
Clay County Fair 

Out of Home & Ambient Media | Events – 'IT'S ON!' POSTER SERIES 
Online/Interactive | Social Media – 'IT'S ON!' AD SERIES

Tower Systems 

Cross Platform | B-to-B Campaign-Regional/National  – A REBRAND THAT RISES ABOVE
Elements of Advertising | Visual – TOWER SYSTEMS LOGO

Hero Haven

Public Service | Public Service Campaigns – A BRAND BUILT TO SERVE 
JUDGE'S CHOICE
Tower Systems 

Cross Platform | B-to-B Campaign-Regional/National  – A REBRAND THAT RISES ABOVE
GOLD WINNERS
Tower Systems 

Sales & Marketing | Collateral Material – WE RISE UP BROCHURE 
Cross Platform | B-to-B Campaign-Regional/National  – A REBRAND THAT RISES ABOVE
Elements of Advertising | Visual – TOWER SYSTEMS LOGO
Elements of Advertising | Visual – TOGETHER WE RISE BRAND VIDEO

Clay County Fair 

Print Advertising | Magazine Advertising – 'IT'S ON!' PRINT SERIES 
Out of Home & Ambient Media | Events – 'IT'S ON!' POSTER SERIES 
Online/Interactive | Social Media – 'IT'S ON!' AD SERIES

Hero Haven

Elements of Advertising | Visual – HERO HAVEN LOGO
Elements of Advertising | Visual – EXTRAORDINARY ADVENTURE BADGES
Public Service | Public Service Campaigns – A WEBSITE BUILT FOR A HERO
Public Service | Public Service Campaigns – A BRAND BUILT TO SERVE
SILVER WINNERS
Tower Systems 

Print Advertising | Magazine Advertising – WE RISE PRINT SERIES 
Online/Interactive | Websites – WE RISE WEBSITE DESIGN 
Online/Interactive | Branded Content & Entertainment for Online Film, Video & Sound –  TOGETHER WE RISE BRAND VIDEO
Elements of Advertising | Visual – JOIN US AT THE TOP 
Elements of Advertising | Visual – THE FACE OF 5G

Clay County Fair 

Film, Video & Sound | Audio/Radio Advertising-LOCAL – BLUE RIBBON RADIO
Cross Platform | B-to-B Campaign-Regional/National – A GRAND CHAMPION CAMPAIGN 

Hero Haven 

Elements of Advertising | Visual – BE A HERO BRAND VIDEO

Caliber 

Corporate Social Responsibility | Sales & Marketing – BAKING SPIRITS BRIGHT