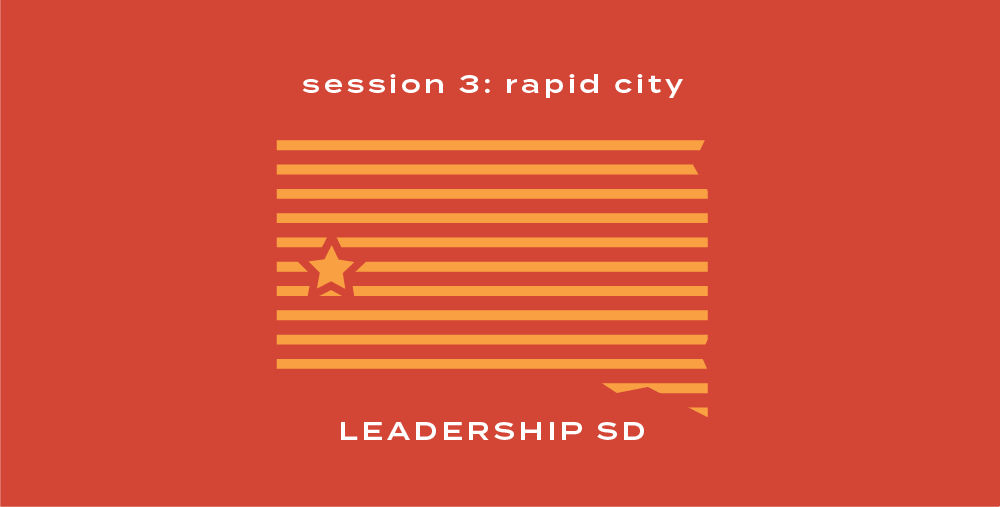 Leadership SD Recap : Session 3 : Rapid City
By Casey Schultz on Dec 3, 2021
Session 3 of Leadership South Dakota took our class to Rapid City and just like the others, it was another great experience. This Rapid City experience was focused on Tourism, Natural Resources, and Military.
Our First stop – Ellsworth Air Force Base. Admittedly, I know very little about Ellsworth or all the work that gets completed at that airbase on a daily basis. The general tour was amazing to see what goes on behind the walls of the base and learn more about the opportunities and careers offered at Ellsworth. Obviously, the aircraft themselves were very impressive, including the chance to sit in the cockpit of the B1 bomber, but the history and purpose of each aircraft were fascinating. As we walked through the complex we learned about the maintenance and machining their staff is responsible for to keep these aircraft performing at an elite level – let's be honest if you're dropping bombs on military targets, you'd want to know your aircraft is up for the challenge.
One particularly fascinating area of the base was in charge of repairing the panels of the bomber's body with a new technology that sprays aluminum from a robotic arm, directly onto the damaged aluminum body panel. Not only was it mesmerizing to watch the robotic arm work, but it was also very eye-opening to hear all the ways they're planning to use and evolve this 'metal-spray' technology. 
The majority of day 1 was consumed by Ellsworth, but once we got checked into our hotel, we headed to downtown Rapid City to learn more about Prairie Edge – an amazing retail store that displays and sells all kinds of amazing, one-of-a-kind artwork, particularly highlighting Native American artwork. I personally have always admired Native American artwork, so I tried to take in as much as I could while we were there. We also heard from the general manager of Prairie Edge, Dan Tribby. Dan has a very unique story and an even better message about taking care of your 'people' – whether your 'people' are friends, family, staff, or just society in general – Dan had some great remarks.
Following Prairie Edge, we moved on to our networking and dinner location – The Blind Lion. Besides having a cool name, it was actually a very cool speakeasy. Just like you'd imagine with a speakeasy – you had to enter through an unmarked back door, via an alleyway. Once you got through the door, you made your way down a questionable hallway, then a set of stairs leading you to an underground area with low ceilings and dim lights. Perfect – just as a speakeasy should be, right? And just as you'd expect – the wait staff was dressed as you'd imagine and they were very passionate about the craft cocktails they were preparing. The food was just as meticulously prepared as well – and equally as delicious. After an early morning departure and a full day of learning – Day 1 was wrapping up.
Day 2
Day 2 kicked off with breakfast, then a short bus ride to the Journey Museum. Again, a new location and experience for me. We heard a short introduction from Troy Kilpatrick, the Executive Director of the Journey Museum, but then he turned it over to the keynote speaker – Mr. Don Barnett, the former Mayor of Rapid City back in the early '70s. If you're not familiar with Don or his story about his time as Mayor, I would encourage you to try to read up on him and all the experiences he faced during his time of leadership.
In short, Don was elected Mayor of Rapid City at the age of 29. Not long after being elected, he was faced with one of the greatest crises South Dakota has ever faced – the great flooding of Rapid City in June of 1972. To hear Don tell his story and the unbelievable details he shared about that event was incredible. November of 2022 marked the 50th anniversary of the flood, so you can find some clips and articles reliving some of the events of that natural disaster – but to hear Don tell his story in person was pretty moving to our group. As Don approaches 80 years old, to hear him speak with the passion and vigor that he delivered to our group was astounding – he has not lost his drive or his passion for helping people and doing the right thing.
Following Don was a tough act, but the next panel discussion was another great lineup from the Rapid City Police Department and the Pennington County Sheriff's Office. Two great officers from these organizations talked at length about how they are working together to not only make their communities better but also how to help the people of the Black Hills as a whole.
We also heard from Willie Welchel, with the Care Campus. This was a great presentation relating to the need for helping those with addiction, abuse, or mental health conditions – as they have no other real source of help. The work they are doing and the ways they are helping people are very inspiring. They've got a very unique way of partnering with law enforcement, the community, and other area medical facilities to make sure their guests are getting the best help they can in hopes to better their lives.
After lunch, we were off to the Innovation Center. The Innovation Center in Rapid City is a very cool building itself, but it has a great purpose for the community to encourage collaboration and entrepreneurship. After a tour of the facility, we heard from another great panel of speakers, particularly from the Tourism areas of the Black Hills; the Mayor of Sturgis, one of the owners of Reptile Gardens, a representative from the Rapid City Airport, the Black Hills National Forest Service and the Sanford Underground Lab.
The panel discussions were great. I happened to attend break-out sessions from Reptile Gardens, the Black Hills National Forest, and the Mayor of Sturgis. Each of them were both educational and very entertaining. To hear the Mayor of Sturgis tell his story of how he became Mayor was very interesting – it all started with him disputing a parking ticket several years ago – good stuff.
After we concluded our day at the Innovation Center, we headed for networking time, a presentation from Adjutant General Jeff Marlette, and dinner provided by a sponsor – Gen Pro Energy Solutions – who are doing some amazing work in the renewable energy industries.
Day 2 was officially wrapped up, but the unofficial evening activities were just getting started. Fun was had, karaoke was sung and memories were made. As you've probably learned from past entries – each time our group gets together, we all seem to get a little closer and a little more comfortable with each other – which became pretty apparent as the night went on based on the karaoke performances.
Day 3
I drove home. I had to return home to attend a 'can't-miss' wedding (which was also great in many ways), so I can't report much on Day 3 of LSD, but I feel pretty confident it was another special day that leaves our group looking forward to the next session – Watertown, January.