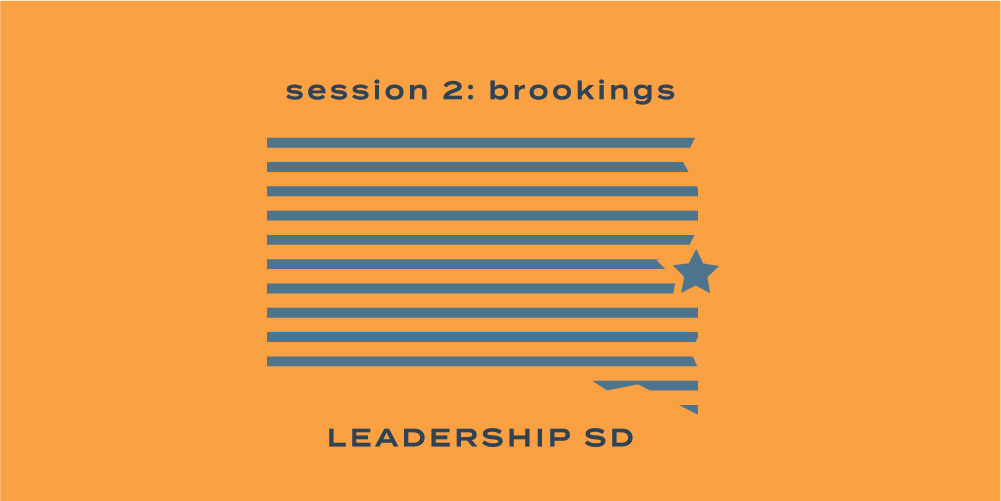 Leadership SD Recap : Session 2 : Brookings
By Casey Schultz on Oct 28, 2021
Just like the last session of Leadership South Dakota, our Brookings session did not disappoint. If you're wondering, the answer is still 'Yes – you should join Leadership South Dakota' if you get the chance. Our group is still trading emails, ideas, feedback and making plans for our next stop – Rapid City.
Session 2 was located in the Brookings area. I say Brookings area because this session was developed around an 'ag and manufacturing' focus, so we spent a good share of our time outside of the city limits.
First stop – Hefty Seeds. As with most of our stops during this Brookings session, I went into these organizations thinking I might know the basics of what each of these companies do. And just like our last session in Pierre, I was quickly humbled at how little I actually did know about their company, industry, and all the incredible details and data that they're evaluating every day. The crew at Hefty Seeds may be well known for their AgPhD shows, but what was most interesting to me was a presentation by Matt Thompson and Darren Hefty. Between the data and trends they discussed related to the future of farming and hearing Darren's take on drain tiling in current ag practices – I was quickly reminded of how complex and scientific farming really is.
After Hefty Seeds, we visited a large commercial dairy operation – Boadwine Dairy. This was a bit of an eye-opener for most of our group, but also a very…. 'colorful' presentation and tour. Seeing and understanding how their operation works was impressive by itself, but hearing the history of their family and how they actually built their dairy farm was equally impressive. Just like at Hefty, the amount of data and analysis that goes into each day (or each cow) is mind-blowing – not to mention how well trained the cattle are for their daily routine.
After washing the mud (mostly mud) from our shoes and removing our knee-high plastic protective boots, we continued just down the road to the Raven Innovation Campus. Now, at this stop – I'm expected to be blown away by technology, automation, and other wizardly things….and I was. Again, I'm always just assuming these incredible technology things are happening behind the scenes (and they are), but seeing some of these machines and technology in real life is very impressive. The amount of R&D that goes into each of these advancements is incredible, but also ongoing. The minutiae are unbelievable for each and every process they implement. 
Like previous sessions, we closed out the day with a great evening meal and a very passionate speaker. That evening's speaker was Sarah Waltner, Senior Director of Global Sales at Raven. In short, she was awesome. If you get the chance to interact with Sarah or hear her speak – I'd highly recommend it.
Day 2
Day 2 was officially IN Brookings. First stop, Daktronics. We had a great welcoming introduction and a nice overview from some of the senior leadership of Daktronics. Having known Daktronics has been a staple of the Brookings community for many years, it was a pretty impressive story hearing how they were started, how they've grown and the dedication they've instilled in keeping their headquarters located in South Dakota. As expected, we also were treated with a great demo of some of their products in their state-of-the-art showroom – impressive is an understatement.
While at Daktronics we also had a great panel discussion with a few of the industrial leaders in town, as well as the Brookings City Manager. The panel represented most of the major industrial operations in Brookings, such as Falcon Plastics, Larson Manufacturing, Daktronics, Prairie AquaTech, and Bel Brands. All of these gentlemen were great with talking about their facilities and the challenges they are currently facing – which almost all of them revolved around staffing shortages and wage compression. As a small business owner, I can understand and relate to their comments, but they are certainly battling this on a completely different level than us here at Caliber. Either way, it was great to hear some of their proposed solutions and tactics they are trying to implement.
After our panel discussion, we had a nice presentation from Barry Dunn, President of South Dakota State University. Go Jacks! Mr. Dunn is a very polished speaker. It was also great to have some time for Q&A with him as it relates to the fluctuation of enrollment at public universities, the future of public education vs tech/trade school growth, and efforts to diversify the college student populations in South Dakota.
At lunch, we heard from an amazing LSD alumni, Tim Schut. This blog post isn't long enough nor will it do Tim justice for his story and the plans he currently has in place to overcome the obstacles in front of him. I highly, highly recommend learning more about Tim and seeing if you can find a way to get involved to help. You can hear from Tim on the Leadmore Podcast, here: t.ly/NTFd and you can also show support through a GoFundMe account set up here: t.ly/HDNA  
After lunch, we were encouraged to burn off some energy at the Children's Museum – and we did. Again, we had a great welcome introduction from their staff and were entertained by the efforts that it took to restore the old school building into what is the Children's Museum today. It's a really fun facility and a great addition to the area. 
As the day wound down, we were treated to an evening reception back at McCrory Gardens and heard from past LSD alumni and their experiences with the LSD program.
Day 3
Day 3 began with a welcome message from Mr. Steve Erpenbach of the South Dakota State University Foundation. As with all our speakers and presenters, it was very informative and entertaining to hear from new leaders across the state and their goals for the future of their organizations.
After Mr. Erpenbach, we had a couple of team activities and some leadership module discussions amongst our group – which is always a great experience since you're generally paired up with new people every time. Then we concluded our morning with a presentation from Senator John Thune. As stated earlier in my post about the Pierre session, I'm not heavily involved in political topics or discussions, but hearing firsthand from Mr. Thune about the current state of South Dakota was very eye-opening. From the struggles of public opinions to the accomplishments of new initiatives launching soon – the scope of the topics he and his team are asked to tackle on a daily basis is pretty astounding. 
Just like the last session, once day 3 concluded, we all seemingly had that feeling of information overload, but in a good way. A way that should be motivating and inspiring to not only do good for yourself and your community but finding ways to implement what we learned in your professional and personal life. That feeling seems to be a recurring theme and I can't wait for the next one.